Grow with Proks
In the rankings published by the Dienas Bizness newspaper in 2020, Proks was rated 52nd overall among Latvian businesses with the highest net turnover, and 13th among private companies. In 2021, the company's revenue grew by a further 33%. In business, steady growth means constant change and acquiring new knowledge. We are constantly expanding our product lines and exploring new markets. We keep working on our process automation and are looking for new managing strategies to boost our efficiency.
Join the Proks team to grow together and advance your skills and career!
Team Spirit
There are more than 70 of us and we are all very different. We come from Latvia, Poland, Belgium and Canada. We sell our products on the local market and export them abroad, we buy from vendors and on the open market, we deliver across the Baltic states and organise our logistics all over the world. We love what we do. Despite our rich experience in the industry, we continue seeking to broaden our knowledge every day. The computer components market is growing at a fast pace, with new and exciting things happening on a weekly basis. We keep our eyes out for more exciting opportunities — and we always find them.
30 Years in Business
We have come a long way since the establishment of Proks in 1992. We started as an exclusive distributor of Bosch home appliances in Latvia. Then we evolved into a multi-brand distributor of home appliances and electronics. We expanded into the broader European market and then beyond. Our experience has taught us never to stop and to always be looking for more opportunities to grow. This is why, today Proks has a strong position in the international computer components market. In 2021, our net turnover reached EUR 193 million, with our total equity reaching EUR 10 million.
Defying Challenges
When the COVID-19 pandemic became a major new challenge, we developed a system of epidemiological safety for our company. In many respects, these workplace rules were stricter than those imposed by the authorities. Some of our staff were transferred to working from home, for which we provided all the necessary equipment. We also expanded the total area of our office space from 500 m2 to 900 m2 in order to provide safe distancing for our office employees. We hired more warehouse workers so we could split our warehouse staff into two separate shifts. We ordered rapid testing kits from Germany and implemented daily COVID-19 testing for our staff. Thanks to such timely preventative action and the inflow of uninterrupted investment, Proks has managed to reach all its financial goals for 2020 and 2021, despite the pandemic-related challenges.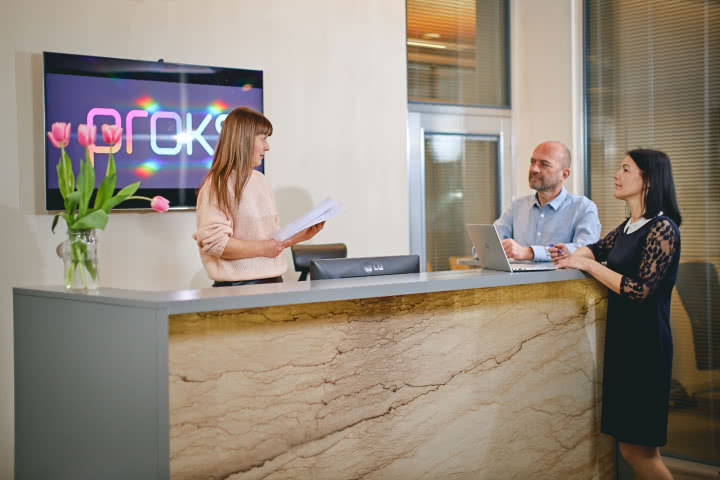 Join Our Team
Would you like to be part of an international team? Are you ready to learn new things every day? Are you someone who always wants to see the results of their efforts? Are you ready to accept challenges and look for solutions together with us?
If this is you, take a look at our vacant positions:
We have 2 open positions!